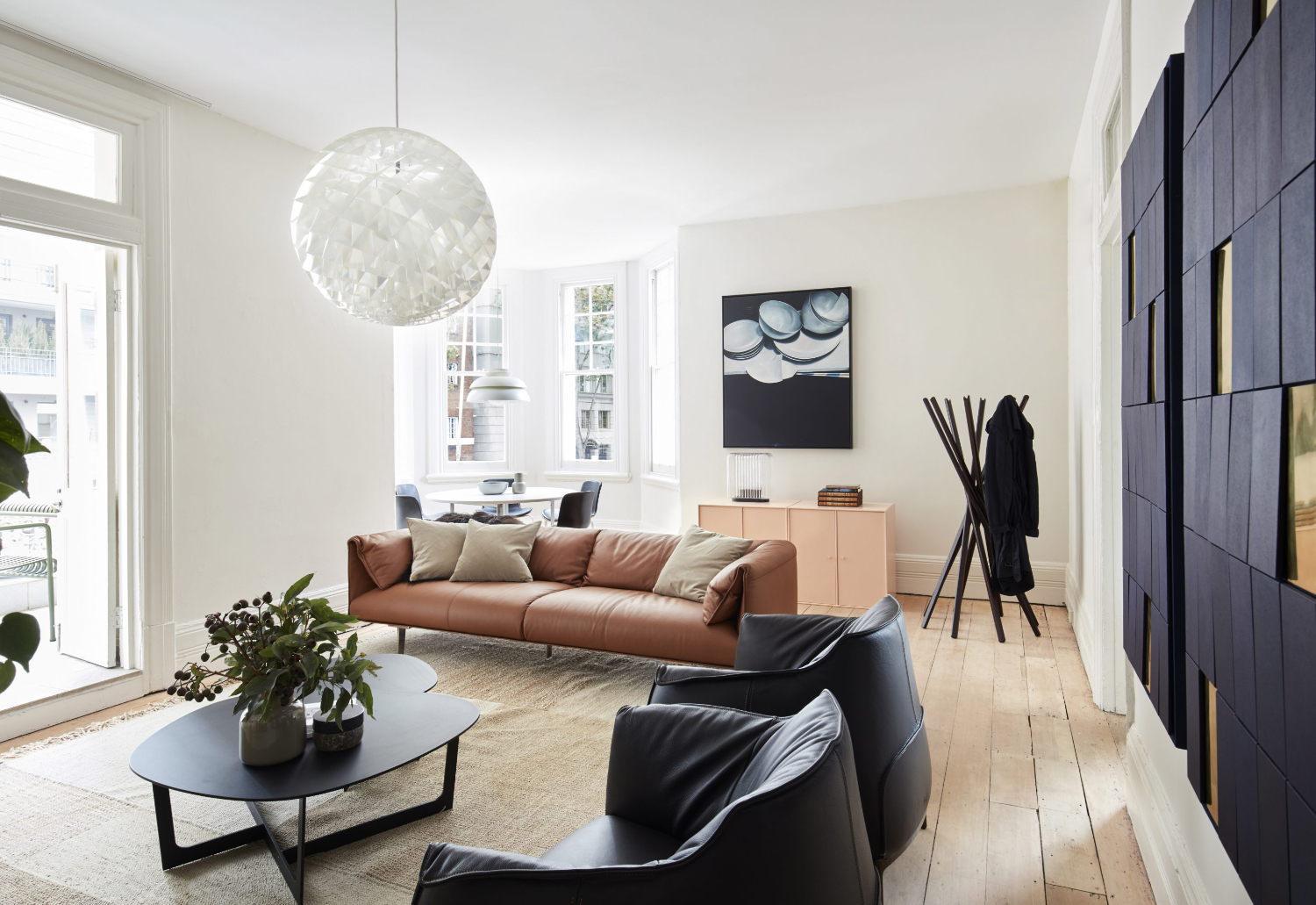 In collaboration with III of Australia's most respected furniture design houses. III Rooms Sydney offers a unique style of accommodation with unparalleled elegance.
Positioned exclusively in the heartbeat of Sydney's chic neighbourhood Potts Point, III Rooms Sydney combines the perfectly imperfect European style apartment into discreet urban living spaces.
Cult Design, MCM House and Jardan Furniture all renowned for their detail in design and interiors have each curated a luxury apartment in this iconic heritage building. Designed to accommodate the most discerning guest.
Guests can expect interiors that exude style and personality set within an abundance of natural light, high ceilings, original artworks, luxurious furniture and unique detail amongst architectural character. The apartments are situated centrally between a kaleidoscope of life, moments away from a variety of Sydney's best restaurants, sophisticated wine bars, stylish boutiques and bohemian coffee shops.

Cult Design Apartment
The first apartment by Cult Design, features an edit of the brand's timeless collections. Using local furniture and design brands to compliment international pieces, the vibe is luxe, liveable and sophisticated yet still wholly welcoming.
Guests will find each room by Cult sports a different vibe, from the elegant, light-drenched dining room filled with Danish design icons to the quirky, colourful sunroom. All rooms are enhanced by a stunning selection of artworks by M Contemporary.

Jardan Apartment
In the second apartment, Jardan takes inspiration from the Australian way of life, expressing contemporary ideas through quality materials. This Potts Point apartment reflects stress-free, playful aesthetic that focuses on texture and colour.
The design house has selected warm, relaxed sustainable pieces crafted to order in Melbourne by hand, providing a refuge from Sydney's hustle and bustle. Spaces are calm, uncluttered and mimic a family home, in reference to Jardan's family values.
Just beyond their apartment's front door, guests can join the kaleidoscope of life and energy that being in the heart of Potts Point brings, moments away from Sydney's best restaurants, sophisticated wine bars, stylish boutiques and bohemian coffee shops.

MCM House Apartment
In the the third apartment, MCM House inspired spaces with a mix of objects and styles using standard MCM palettes and classic silhouettes. Its III Rooms apartment reflects the mature European feel of the building's much-loved heritage architecture, without taking itself too seriously.
Featuring a subdued, calming palette designed to make each guest feel at home, the apartment design draws energy from an evolving gallery of MCM's design ideas. Guests will delight in the juxtaposition of the Sam Davidson Burnout photo above the reclaimed timber dining table – it captures the animated Potts Point vibe perfectly.